ProTalk and NEXEDGE 2019 Promo - Buy 6 Radios, Get up to a $240.00 back by Check or Visa Gift Cards by mail in or online rebate.

Simply purchase Kenwood's ProTalk® Series Radios during our Business End User Rebate Program January 1st - March 31st 2019. Rebate submission must be done no later than 4/15/19.
The following products qualify for this offer:
Product / Rebate Value
NX-340U16P / $30.00
NX-340U16P2 / $30.00
NX-P500 / $30.00
PKT-23K / $20.00

TK-3230DXK / $20.00

TK-3360ISU16P / $40.00
Check out the best selling analog Kenwood ProTalk® PKT-23 LT is pocket sized and provides 1.5 watts of power, 4 channels, and up to 15 hours of operation with 99 pre-programmed frequencies. This tiny, 3.9 ounce radio is a must have for schools, safety programs, retail and dentist offices.
ProTalk® TK-3230DX XLS has 1.5 watts of power with 99 pre-programmed UHF business frequencies to choose from. All the features are menu driven and the lighted display gives the user status icons for easy operation. The TK-3230DX XLS is lightweight, compact, on-site radios that have innovative features ideal for use in retail, restaurant, hotel, motel, educational, multi-family dwelling, medical and service industry applications.
Heavy Construction, Manufacturing, Property Management, Landscaping, Roofers, and more will enjoy the ProTalk® Digital solutions for longer distance, clarity and top of the line performance makes the Kenwood NEXEDGE® 2 & 5 Watt UHF series are the most durable members of the NEXEDGE Kenwood family of on-site radios. These powerful, handheld business radios are the digital solution for your business communication requirements. Tough, rugged and dependable, NEXEDGE® digital radios increase productivity in applications of heavy construction, steel & concrete, and inside buildings, by offering better distance and clearer reception. UHF models like the NX340U16P or the NX340U16P2 are great for all around use.
In need of an intrinsically safe radio for you hazardous job site, look at the Kenwood ProTalk® UHF TK-3360U16P Radio with 5 Watts. The Kenwood TK-3360IS is engineered to be durable and water-resitant. The TK3360 has passed IP54/55 dust and water intrusion tests and also meets or exceeds MIL-STD 810 C/D/E/F environmental standards and comes standard with the KNB-68LC 2000 mAh Li-Ion Intrinsically Safe Battery Pack. This Kenwood Intrinsically Safe product meets Intrinsically Safe Classes I, II, III, Div. 1, Groups C, D, E, F, G hazardous locations and Non-flammable (NI) Class I, Div. 2, Groups C, D hazardous locations.

Qualifications: $20-$40 Rebate per radio with purchase of six (6) radios for a maximum of ninety (90) radios:
To claim your Rebate Check or Gift Card, register online at: https://protalk.rebateaccess.com
1. Access the rebate by entering offer code 87280.
2. Complete and submit the online rebate form.
3. Include a copy of the invoice from your Authorized Kenwood Dealer or Distributor dated between 01/01/19 and 03/31/19.
4. Rebate claim information must be postmarked or submitted on or before April 15, 2019.
For assistance, please call 1-800-953-3098.
Offer #87280
ProTalk Increase Your Productivity, Increase Your Savings Promotion
01/01/2019 - 03/31/2019
Eligible radios listed above must be sold, delivered and invoiced to the Business End User during the promotion period (January 1, through March 31, 2019).

Minimum 6 units of the same Radio with maximum 90 radio rebates allowed per Business End User/Company. Rebate models listed are subject to availability.

Value of savings example: (TK-3360ISU16P) minimum rebate @ $40 per x6 radios up to ninety (90) radios maximum = $3,600. (NX-P500, NX-340U16P2 and NX-340U16P) = $2,700 or (PKT-23 and TK-3230DX) = $1,800. These are the maximum possible savings if customer purchases x90 radios.

NO Rebate will be paid on radios delivered before or after the promotion period, regardless of invoice date.

All invoices must show all radio original sale prices and must not be altered in any way.

Leased/rented radios are not eligible for this rebate program.

If you choose the Gift Card option, they will be mailed to the Business End User company within 8-10 weeks from submission of rebate qualification.

PO Boxes are not allowed for this promotion.

To receive the rebate after each purchase of six (6) qualifying radios (limited to a maximum of 15 total redemptions), End-User must completely fill out the online submission form available at https://protalk.rebateaccess.com and supply all requested documentation.

Model and claim information must be registered on-line on or before April 15, 2019 using program offer number: 87280.

This promotion may not be combined with any other promotional offers, rebates, coupons or discounts. This promotion is not transferable. Any requests that do not comply with the terms of this promotion will be rejected. This promotion is subject to all local laws and regulations.

Rebate Program is for Business End Users only and not for individual use. Kenwood Dealers, Resellers, Distributors and Associated Employees are ineligible to participate in this Rebate Program.

"ONLY" End Users may complete and submit this rebate promotion.

This or the rebate claim form has no cash value.

This offer is good only for residents of the USA and Puerto Rico and is void where prohibited, taxed or restricted by law.

Materials received become the property of Kenwood and cannot be returned.

Fraudulent use or submissions could result in prosecution under the U.S. Mail Fraud Statutes.

Kenwood reserves the right to change, modify or discontinue this promotion at any time without prior notice.

ProTalk® Series End User Rebate Redemption Information Offer is void where prohibited/restricted by law.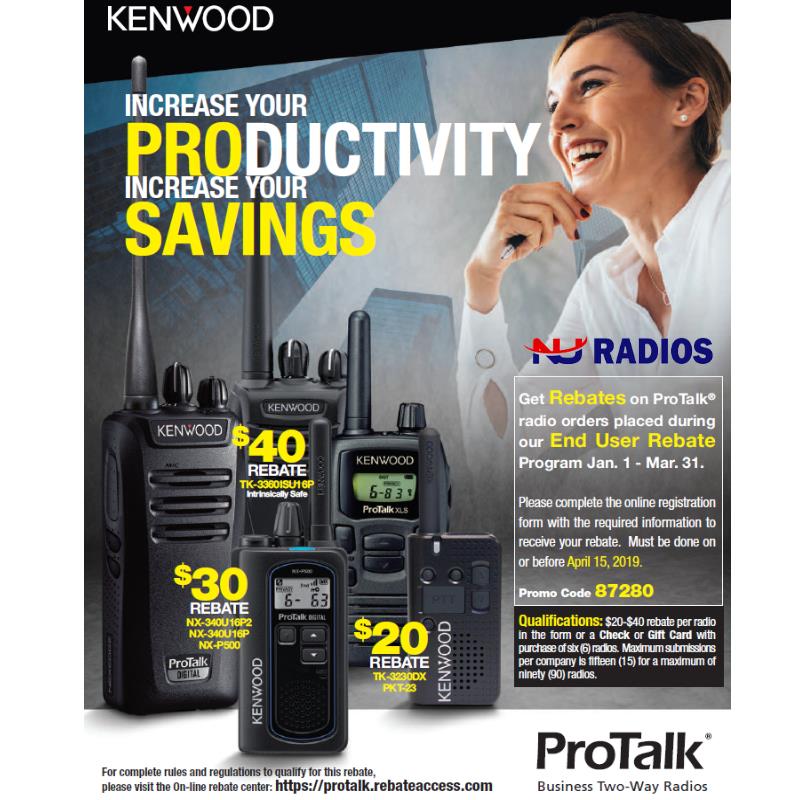 Recent Posts
WoW! Buy Six radios and get One FREE by Rebate or get up to a FREE $150 Visa Gift Card or a FREE …

ProTalk and NEXEDGE 2019 Promo - Buy 6 Radios, Get up to a $240.00 back by Check or Visa Gift Cards …

BE MORE PROFITABLE - Business Two-Way Radios by Kenwood Kenwood ProTalk and NEXEDGE Fall Promo …